The CHILD Cohort Study is proud to announce its first-ever
National Arts Competition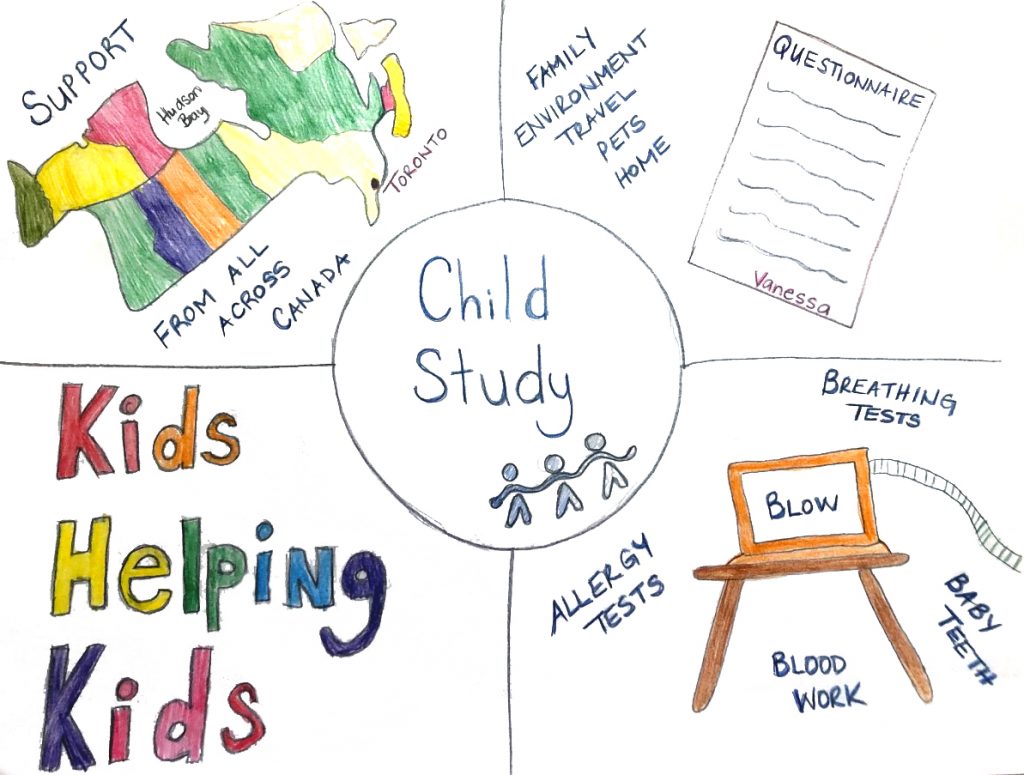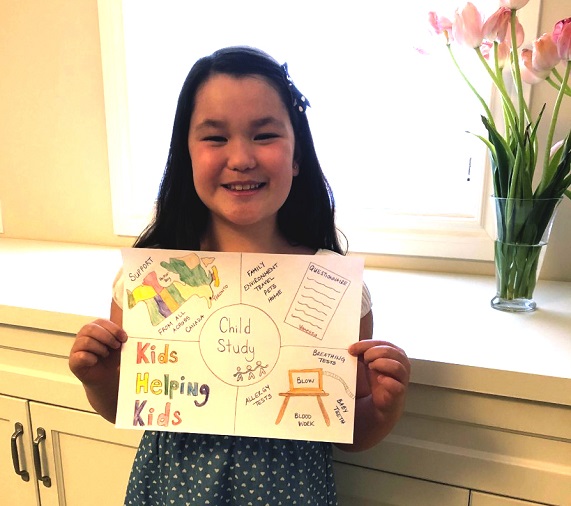 Vanessa
9 years old
Mississauga, ON (Toronto site)
My poster is about all the fun things I got to do at Sick Kids Hospital for the Child Study. From my mom completing surveys to me doing breathing tests. Thank you to all the kids who are participating!
Judges' comments:
I loved your concept – how you showed the different parts of the CHILD study. I liked your colourful message about "kids helping kids". Great work!
Good information and clearly presented.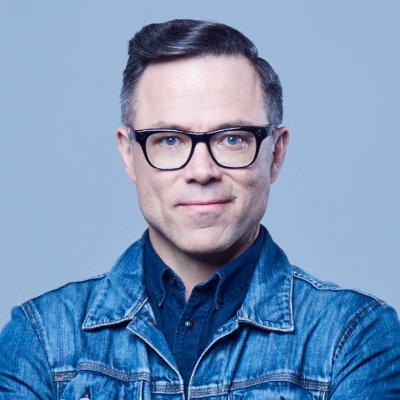 Professor of Health Law and Science Policy | Author of Is Gwyneth Paltrow Wrong About Everything?
Professor Timothy Caulfield is an unrivalled communicator who debunks myths and assumptions about innovation in the health sector — from research on stem cells to diets to alternative medicine — for the benefit of the public and decision-makers. He is a Canada Research Chair in health law and policy, a professor in the Faculty of Law and the School of Public Health, and a research director of the Health Law Institute at the University of Alberta.
Prof. Caulfield writes frequently for the popular press on a range of health and science policy issues. He is also the host and co-producer of the award-winning documentary TV show, A User's Guide to Cheating Death, currently streaming on Netflix.
Who can participate?
All kids participating in the main CHILD Cohort Study and/or the COVID-19 add-on study (up to age 14) are invited to participate in the contest.
What should I create?
You can create any original work of art that may include:
a drawing, painting, collage, 3D craft, sculpture or photograph
a song, dance or poem
a video, TikTok
What should my artwork be about?
Your art can be about anything related to the CHILD Cohort Study, such as what CHILD means to me; what being part of CHILD's COVID-19 add-on study is like; and cool things CHILD has discovered. Visit CHILD's Key Discoveries page to see the many research discoveries you've played a part in since you were born.
Looking for inspiration?
Here's some artwork by other kids in CHILD…
Click on image to enlarge
Two sculptures
by Sara (11 years old; Edmonton, AB)
My sculptures are about both studies (CHILD and COVID-19 add-on). I  show the gut bacteria that are studied, but because we are in a pandemic I thought it would be fun to show them in situations like mine during COVID-19. Left to right: One of them is washing "its hands", one is wearing a mask, and one is on a social distanced video chat. It was really cool to learn about all of the things they learned from the gut bacteria through our poop.
Click on image to enlarge
CHILD studies
poster by Brynn (10 years old; Toronto, ON)
My artwork is about studies the CHILD Cohort Study has done or is doing. I used a useful computer app called Paint 3D and pasted a few pictures but also made them my own in some way. I had a lot of fun doing this. Thanks for doing another contest this year!! P.S. I split it in quarters because I could not decide on one subject.
A visit to the CHILD Study office
video by Maxime (12 years old; Vancouver, BC)
"What I love about CHILD"
video by Lily (12 years old; Winnipeg, MB)
Photo tips
Ready to photograph your creation? Here are some tips to make sure your artwork looks as good in the photo as it does in real life.
Set up a clean surface (a table or floor is great) in a sunny spot. Sunlight makes colours and details pop and helps the camera focus.
Place something white, grey, or black under your creation. This will reduce distracting patterns in the background and keep your creation front and centre.
Aim your camera or phone as straight as possible at your creation. Try to avoid taking photos at an angle so we get to see your entire creation clearly.
Try to keep all shadows off your creation.
For 2D creations, lay it face up on the flat surface and smooth out any wrinkles or curled corners.
For 3D creations, try to leave a little bit of space around your creation when taking pictures and photograph front, back, sides, and top (if needed)
Video tips
Submitting a video?
Here are some options for how to shoot.
If you want everything in your video to appear clearly, make sure the light is hitting your scene from the front. Lighting from behind will make you or your scene appear dark.
Make sure only the noises that you want in the video are present. Things like wind or background noise are easily picked up by microphones.
Consider using a tripod or mounting your camera on a steady surface to avoid shakiness.
After you hit record, wait a few seconds before speaking or moving to make sure everything you want captured makes it into the video.
How do I submit my creation?
Right now, original work cannot be dropped off to the CHILD clinics. You can upload your artwork in a digital file (text document, video, audio, or graphic file – scan or take a picture of your artwork) using the submission portal below.
If you are sending a picture of your artwork, try to ensure the photo or scan is very clear and as large as you can make it. 
Submission deadline is September 30, 2021
Where will the entries be displayed?
All entries to the Arts Contest will be displayed on the CHILD Cohort Study website. Check back here regularly to see the entries from around the country.
IMPORTANT NOTE: All Arts Contest entries will be displayed on the CHILD Cohort Study website and published across CHILD social media accounts (Twitter, Instagram, Facebook).
If you do not wish to have your submission or your name/age/city to be visible to the public, please let us know as soon as you enter by emailing us at child@mcmaster.ca.
Are there prizes?
Every contestant will receive a prize of a cool CHILD Cohort Study drawstring sportsbag. We will also award four regional prizes (e-gift cards of $100 each) and one national prize (e-gift card of $250!)
How will the posters be judged?
Entries will be evaluated on :
creativity
originality

clear messaging

(does the poster tell us something about the CHILD Cohort Study?)
CHILD 2021 Arts Contest Submission Portal