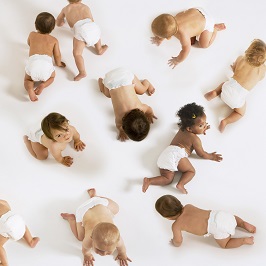 CHILD is the largest general population-based hands-on longitudinal birth cohort study in Canada.
The CHILD Study was originally proposed and powered to explore relationships and interactions between environment and genetics in the early-life development of allergies and asthma. However, data collection at 3 and 5 years was expanded to provide for the study of other chronic non-communicable diseases (NCDs), including obesity and diabetes, and as CHILD researchers follow our participants through to post-puberty, the clinical focus of the study will further expand to include neurodevelopment, and outcomes such as chronic obstructive disease and cardiovascular and metabolic disorders. The CHILD Study has thus become a major platform for the investigation of developmental origins of health and disease (DOHaD).
Our participants are characterised by their geographical and ethnic diversity. A Vanguard cohort of 216 children was recruited in late 2008 and the General cohort was recruited from 2009-2012. In total 3,621 pregnant mothers were recruited from the general population in four cities: Vancouver, Edmonton, Winnipeg (including a nearby rural site) and Toronto. These mothers gave birth to 3,537 children eligible for inclusion in the study, of whom 3,455 began the study. The CHILD cohort is ethnically, environmentally, culturally and socioeconomically diverse.
The participating children are well phenotyped, allowing researchers to identify chronic illness early in life, and participant retention rates have been excellent to date (over 90% at present).
Overview of the CHILD Study, including baseline demographics of subjects (Thorax, Oct 2015)
HISTOGRAM: BIRTH DATES, GENERAL COHORT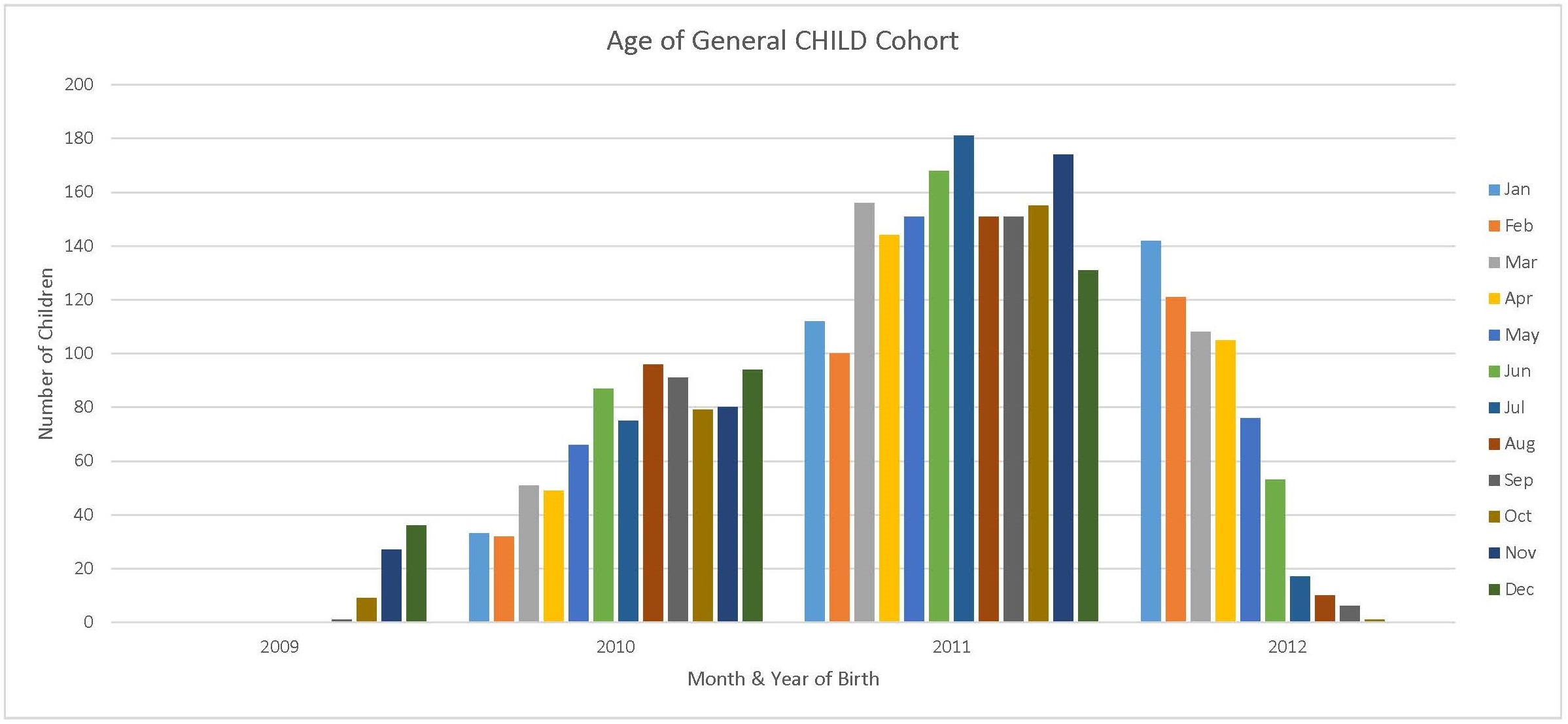 STUDY OUTCOMES
Primary Endpoint
• Specialist/Physician-diagnosed asthma at age 5
Secondary Endpoints
• Preschool wheeze
• Eczema/atopic dermatitis
• Allergic rhinitis
• Food allergy
• Atopy
• Preschool lung function
• Lung inflammation markers
• Metabolomics
• Immunological outcomes
• TLR function, T-cell stimulation & cytokine assays
CLINICAL & BIOLOGICAL TESTS
Genetics
• Genotyping
• Gene expression
• Epigenetics
• Source: peripheral blood, cord blood
Immunology
• TLR function, innate effector function
• Adaptive Immune function
Other Assessments
• Pulmonary function tests
• Exposure to respiratory pathogens
• Raised volume RTC (Toronto only)
• Exhaled nitric oxide (Toronto only)
• Metabolomics (Urine samples)
• Atopy (Skin tests and IgE)
• Breast milk composition
• Maternal diet
• Childhood diet
• Microbiome analyses (stool/meconium)
• Child nasal swab
SCHEDULE: DATA AND SAMPLE COLLECTION