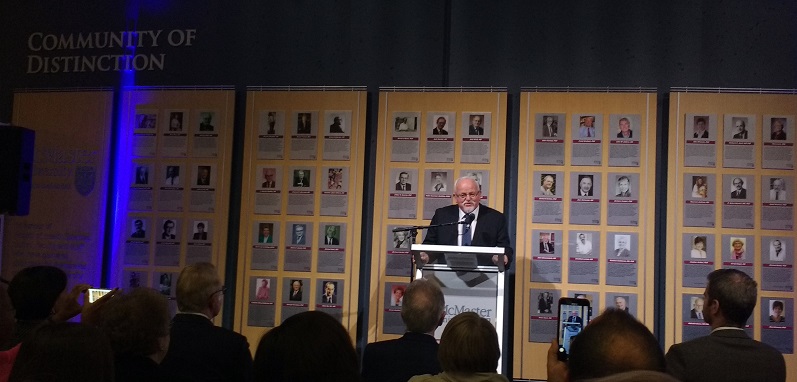 On November 8, 2019, Dr. Malcolm Sears, Founding Director of the CHILD Cohort Study, was formally inducted into McMaster University's prestigious Community of Distinction. He was one of three inductees for 2019.
In a ceremony attended by dozens of friends, family and colleagues of the three honourees, Dr. Paul O'Byrne, Dean and Vice President of the Faculty of Health Sciences and Dean of the Michael G. DeGroote School of Medicine at McMaster, acted as Master of Ceremonies.
Dr. O'Byrne paid a warm personal tribute to Dr. Sears, recognizing his seminal contributions to our understanding of, and approaches to treating, asthma, as well as his significant roles in both the Dunedin birth cohort study in his native New Zealand, and in the McMaster-headquartered CHILD Cohort Study. Dr. O'Byrne also recalled Dr. Sears' original sabbatical visit to McMaster and the subsequent, ultimately successful efforts to recruit him to return to Canada from New Zealand to lead the Firestone Institute for Respiratory Health.
View Dr. O'Byrne's tribute and Dr. Sears' acceptance speech below.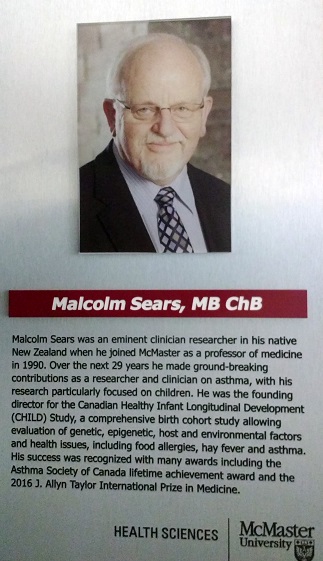 In his acceptance speech, Dr. Sears recalled his beginnings at McMaster and how the institution's culture of collegiality and collaboration won him over, leading him to join the faculty in 1990. He spent the next 29 years at McMaster making ground-breaking contributions as a researcher and clinician.
Dr. Sears acknowledged former colleagues previously inducted into the Community of Distinction, whose plaques adorned the wall behind him as he spoke–foremost among them Dr. Freddy Hargreave. He also recognized CHILD's long-term Research Manager, Dr. Diana Lefebvre, and those who have taken over the leadership of CHILD, including the current Director Dr. Padmaja Subbarao: "The Study is in good hands."
A photo of Dr. Sears and a plaque commemorating his contributions to McMaster is now on permanent display in the Ewart Angus Centre of McMaster University's Health Sciences Centre.
The Community of Distinction is a high-profile gallery that honours Faculty of Health Sciences' alumni, faculty and staff who have brought distinction and recognition to McMaster University and the Faculty of Health Sciences through outstanding scholarship and innovative research. The gallery was established in 2003.