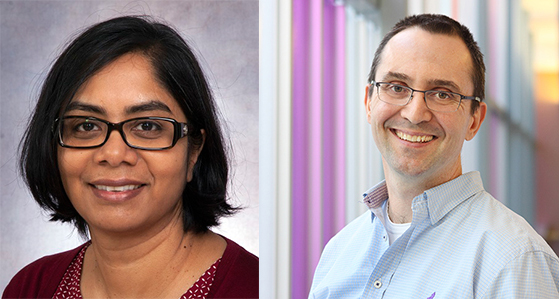 The CHILD Cohort Study's Director, Dr. Padmaja Subbarao, and Co-Director, Dr. Stuart Turvey, have each been appointed leadership roles in major precision health initiatives at their respective institutions.
Dr. Subbarao has been named a co-lead, together with Dr. David Malkin, of the newly launched Precision Child Health (PCH) initiative at The Hospital for Sick Children. PCH is considered to be the "ambitious centerpiece" of the institution's new strategic plan, SickKids 2025.
According to the SickKids' announcement, the PCH will "revolutionize [SickKids'] ability to integrate patient biologic, clinical, treatment, outcome, and social and environmental data to offer the next generation of individualized care for all our patients."
As co-lead, Dr. Subbarao will spearhead "efforts to increase networking and expand the PCH vision and application broadly across the hospital."
Dr. Turvey has just been named the lead for the Precision Health strategic initiative of the BC Children's Hospital Research Institute (BCCHR).
In this role, according to the BCCHR announcement, he will "lead the development of a robust and cohesive support system aimed at fostering the development and testing of innovative therapies and improving access to precision health care." 
---
Dr. Subbarao is a Clinician Scientist in Respiratory Medicine & Physiology & Experimental Medicine at SickKids; an Associate professor of Paediatrics, Physiology and the Dalla Lana School of Public Health at the University of Toronto; and holds a cross appointment in Respirology in the Department of Medicine at McMaster University.
Dr. Turvey is an investigator and pediatric immunologist at BC Children's Hospital and the Aubrey J. Tingle Professor of Pediatric Immunology at UBC, and he holds the Tier 1 Canada Research Chair in Pediatric Precision Health.