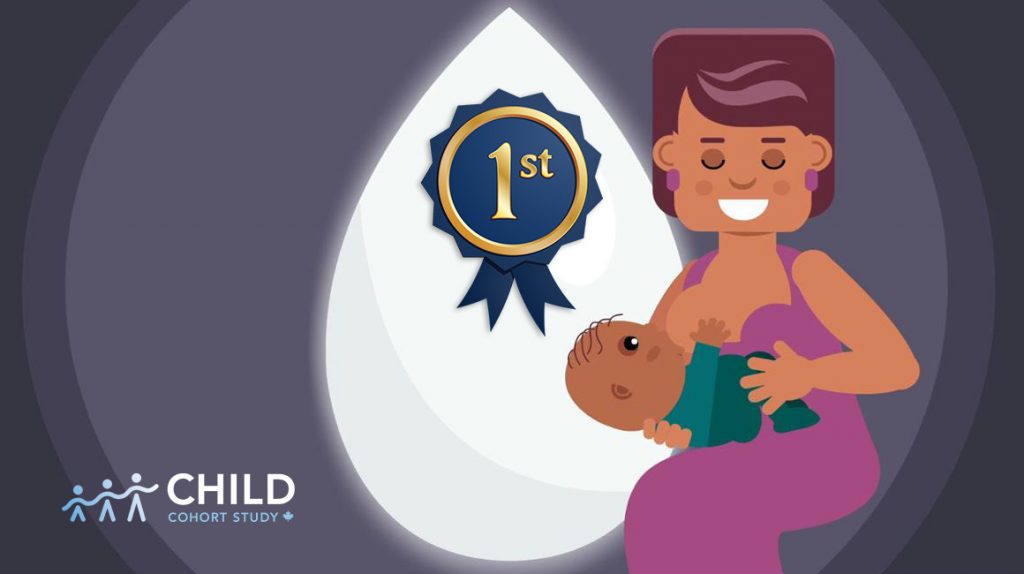 The CHILD Cohort Study is thrilled to announce that its video New Scientific insights into breastfeeding received First Place and a $3,000 award in the 2021 CIHR "IHDCYH Talks" knowledge mobilization (KMb) video competition.
New Scientific insights into breastfeeding shares CHILD's discoveries about the role of breastmilk in child health and development. For example, CHILD research has shown that breastfed babies have higher levels of beneficial gut bacteria and healthier growth patterns than babies who are not breastfed; that breastfed babies have a lower rate of wheezing and that they have a lower risk of developing asthma as they get older.
CHILD wishes to thank the more than 2,500 moms who provided breastmilk samples for analysis and CHILD researchers and stakeholders who provided guidance on the video development and voted online during the competition. Illustrations and animation for the video were designed by RichToons.
This is CHILD's third "IHDCYH Talks" win. In previous competitions, other CHILD videos won First (2015) and Second Place (2019).
The "IHDCYH Talks" competition is sponsored by the CIHR Institute for Human Development, Child and Youth Health to recognize excellence in videos that present clear, evidence-based messages designed to have a positive impact on the health of children, youth and families.
Visit the IHDCYH Talks Video Competition YouTube Channel to watch all of the 2021 video submissions.