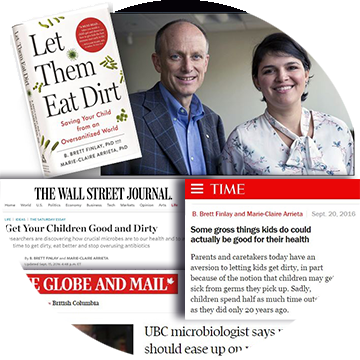 Let Them Eat Dirt, a book based on research into how the microbes in our body contribute to our lifelong health, is on the shortlist for the 2016 Science in Society General Book Award.
Dr. B. Brett Finlay and Dr. Marie-Claire Arrieta co-authored the book, which includes results from their cutting-edge work leveraging data from the CHILD Study.
The book has captured international attention and been featured widely in major media outlets including Good Morning America, National Public Radio (NPR), the Wall Street Journal and CBC's The Current.
"We were thrilled to hear about the nomination," says Dr. Arrieta. "Regardless of the outcome, this will help us spread our message about the microbiome even further."
"I strongly believe it is an important part of being a scientist," says Dr. Finlay of the significant commitment of time and energy involved in writing the book and fielding the hundreds of related media requests.
"We scientists get paid by taxpayers to engage in discovery initiatives in the lab," he adds. "We have to show the world that every day the scientific process is opening up new knowledge that is potentially improving our world."
The award, sponsored by The Canadian Science Writers' Association (CSWA), honours outstanding contributions in science writing. The books selected must be understandable to the layperson, and are judged on various criteria including literary excellence, scientific content and accuracy, and value in promoting greater understanding of science by the general reader.