The CHILD Cohort Study (CHILD) is pleased to announce that Linda Warner, Senior Research Coordinator for CHILD's Vancouver site, has been recognized with a BC Health Care Award as a "Health Care Hero."
Presented by the Health Employers Association of BC (HEABC), the Health Care Heroes "Gold Apple" award recognizes individuals who are providing outstanding care and support in health care and whose achievements and actions inspire those around them.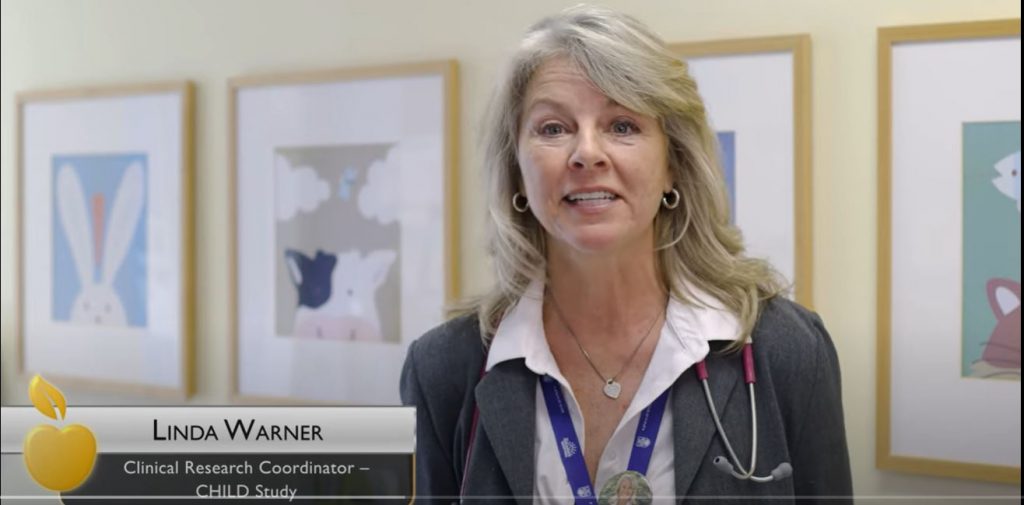 Linda was recognized as a Health Care Hero for her unfailing commitment in Canada and abroad to promoting advocacy and empowerment for healthcare patients and research participants in partner-centred care, and for facilitating a voice for children and their families. She received a hand-crafted glass Gold Apple ornament and framed certificate.
Linda has worked with CHILD since 2009. A dedicated pediatric nurse and study coordinator, Linda has a passion for community and participant engagement that spans her interactions with researchers and staff, students, and the more than 700 BC families participating in CHILD.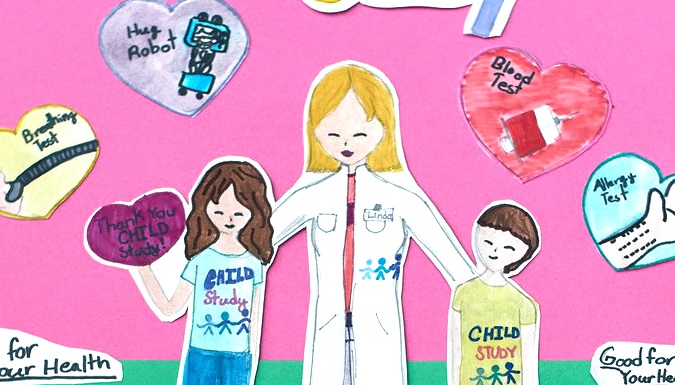 Detail from a poster by CHILD Cohort Study participant Luna: "My poster is about my fun visits with Linda…"
Linda has championed a number of innovative participant engagement activities, such as launching a CHILD participant national poster contest, creating a "Science Squad" illustrated book for the children in CHILD, and organizing a "Movie Night" for Vancouver families, among many more activities and initiatives. She helped develop a participant engagement strategy for CHILD; established and is Co-Chair of CHILD's national and Vancouver-based Participant Engagement Committees; and is a valued member of CHILD's multidisciplinary Knowledge Mobilization Stakeholder Advisory Committee.
"Linda is the heart and soul of CHILD," says Dr. Stuart Turvey, CHILD's Co-Director and Vancouver site leader. "Her commitment to engage with the families as true partners in research is Linda's legacy to the CHILD Cohort Study."
Watch the Health Care Hero interview with Linda and CHILD participants
The BC Health Care Awards were created in 2007 to celebrate excellence and innovation in BC's health care community. Since the inauguration of the awards, 152 Gold Apples and 101 Awards of Merit have been presented to deserving BC health care employees. The Health Care Heroes Awards are supported by Pacific Blue Cross.