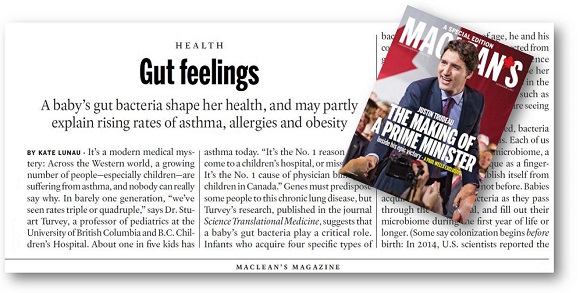 Maclean's magazine featured the Canadian Healthy Infant Longitudinal Development (CHILD) Study and recent scientific discoveries generated from CHILD Study data in its November 16, 2015, issue.
The feature article "Gut feelings: A baby's gut bacteria shape her health, and may partly explain rising rates of asthma, allergies and obesity" highlights two new studies that point to the importance of the first three months of life in shaping the gut microbiome—a "critical window" that may lead to health effects down the road.
Researchers Dr. Stuart Turvey (The University of British Columbia), Vancouver site leader for the CHILD Study, and Dr. Anita Kozyrskyj (University of Alberta), co-Investigator for the CHILD Study, were both interviewed by Maclean's.
Dr. Turvey's research found that four types of gut bacteria play a critical role in the first 100 days of life in protecting children against asthma. The study was conducted with co-Principal Investigator Dr. Brett Finlay and colleagues at The University of British Columbia and BC Children's Hospital, and involved the participation of more than 300 families from the CHILD Study. Published in Science Translational Medicine, it is the first research to establish a causal link between infant gut bacteria and the development of asthma.
Dr. Kozyrskyj's research, published with co-Principal Investigator Dr. James Scott (University of Toronto) in BJOG: An International Journal of Obstetrics and Gynaecology, used data collected at the same age from almost 200 children participating in the CHILD Study. It found that infants of Canadian women who received antibiotics during labour for a positive vaginal culture for Group B Streptococcus (GBS) or cesarean delivery were more likely to be depleted of microbes essential for normal immune function. Breastfeeding modified some of these effects when infants were 12 months old.
Maclean's is a Canadian weekly news magazine, reporting on stories at home and around the world that matter to Canadians.