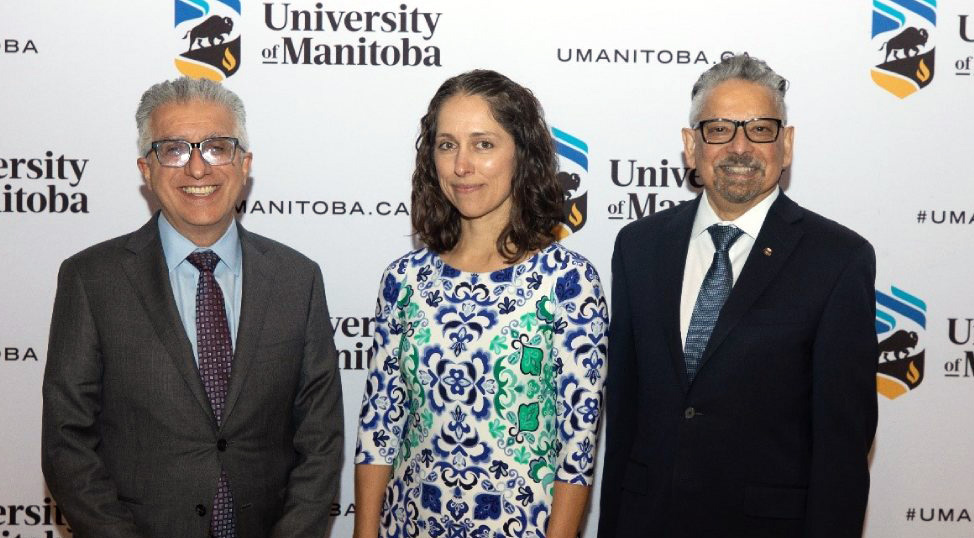 CHILD Deputy Director Dr. Meghan Azad (centre) is flanked by University of Manitoba's President & Vice Chancellor Michael Benarroch (L) and VP Research & International Dr. Mario Pinto at the Steacie Prize ceremony. Photo: University of Manitoba.
CHILD Deputy Director Dr. Meghan Azad has been awarded the prestigious Steacie Prize for 2022.
"I am honoured to receive this award and highlight the importance of research about early nutrition and the developmental origins of health and disease," Dr. Azad was quoted as saying in the University of Manitoba announcement.
"Although these types of awards are given to an individual, I believe they are the result of a team science approach. I would like to thank the many colleagues, mentors, and trainees I have had the honour of working with for their support and contributions to our research."
Dr. Azad, a world leader in the Developmental Origins of Health and Disease (DOHaD), is researching how breast milk and breastfeeding influences later health and disease in children. She co-founded the Manitoba Interdisciplinary Lactation Centre (MILC) established the International Milk Composition Consortium (IMiC), and is co-director of the multidisciplinary THRiVE Discovery Lab.
The Steacie Prize has been awarded annually since 1964 by the trustees of the E.W.R. Steacie Memorial Fund, a private foundation dedicated to the advancement of science and engineering in Canada, to a young scientist or engineer who has made notable contributions to research in Canada.