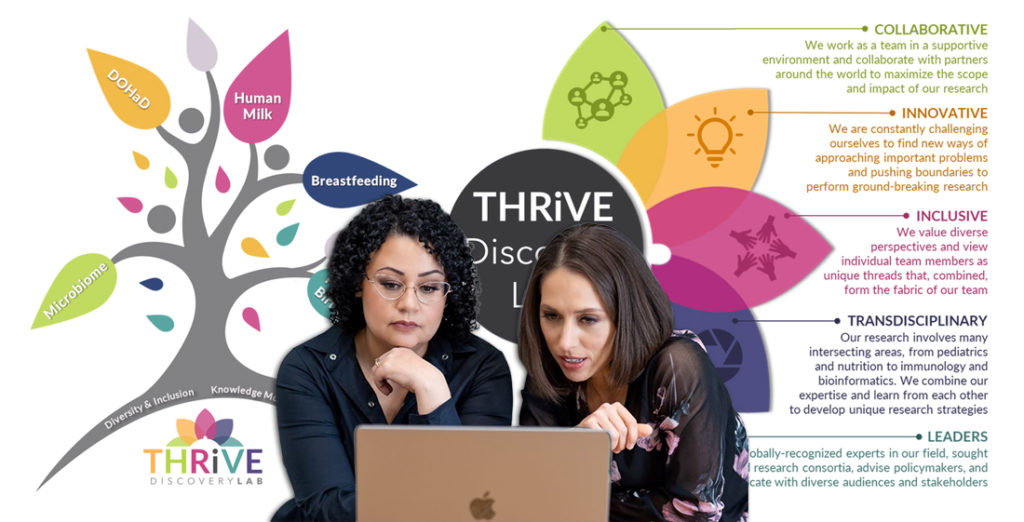 CHILD Deputy Director Dr. Meghan Azad (right) and Natalie Rodriguez (left), co-directors of the University of Manitoba's THRiVE Discovery Lab.
A research project analyzing CHILD breastmilk samples and led by CHILD Deputy Director Dr. Meghan Azad has received a prestigious $2.5M grant from the US National Institutes of Health (NIH).
The NIH only supports research outside of the US when the researcher is uniquely qualified and the work cannot be accomplished in the US.
The five-year Multi-omic Milk (MuMi) Study will have access to a rare resource: thousands of samples of breastmilk that have been preserved in frozen storage since being collected from CHILD mothers over a decade ago. Meanwhile, for the families from whom these samples were taken, CHILD has continued collecting health, environmental and lifestyle data, with a new round of data collection presently underway.
"Having access to that kind of data over a long period is unique," commented Dr. Azad to the Winnipeg Free Press. "The children are now 13 years old and we're still following them; that's really unique as a resource."
Dr. Azad and a team of her colleagues—including Natalia Rodriguez, with whom Dr. Azad co-directs the University of Manitoba-based THRiVE Discovery Lab—will conduct 'multi-omic' lab analyses of the milk samples. They will then have machine-learning scientists at Stanford University search the resulting data for patterns and associations using artificial intelligence.
"We're at the leading edge of studying breastmilk as a biological system," stated Dr. Azad in a University of Manitoba announcement about the NIH grant. "In the past, you had nutritionists studying the nutrients, endocrinologists studying the hormones and microbiologists studying the bacteria. What we're doing, which is unique in the world, is studying all those components together."
"We have the potential, in this study, to link everything we find in the breastmilk to health outcomes in the children. We're going to generate the world's largest and most detailed dataset of mothers, infants and breastmilk."
Dr. Azad expects the research will have implications for public policy that supports breastfeeding mothers everywhere: in developing countries, where breastmilk can help prevent lethal infections, and in developed countries like Canada, where breastmilk can help prevent conditions such as obesity and allergies. 
"Thanks to the commitment of the families in CHILD, we intend to move our understanding of this superfood to the next level," adds Dr. Azad.
Dr. Azad, a world leader in the Developmental Origins of Health and Disease (DOHaD), co-founded the Manitoba Interdisciplinary Lactation Centre (MILC) established the International Milk Composition Consortium (IMiC), and is co-director of the multidisciplinary THRiVE Discovery Lab.