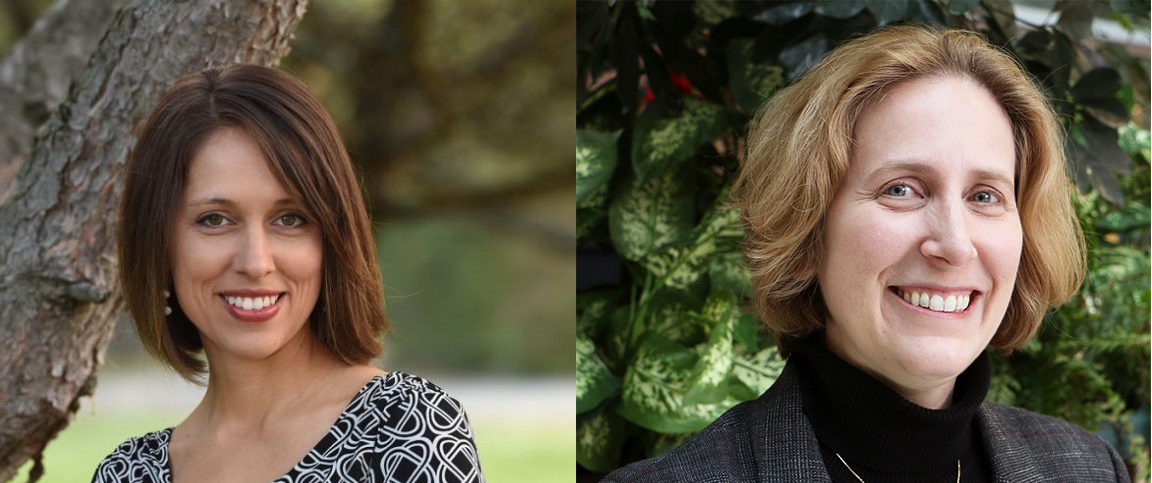 L to R: Dr. Meghan Azad and Dr. Elinor Simons
The CHILD Cohort Study is pleased to announce new roles for Drs Elinor Simons and Meghan Azad as part of the Study's leadership team, effective February 1, 2021.
Dr. Elinor Simons assumes the role of Site Leader for CHILD's Manitoba site.
Dr. Simons (MD, PhD) is a pediatric allergist and clinical epidemiologist, a clinician-scientist at the Children's Hospital Research Institute of Manitoba (CHRIM), and an assistant professor at the University of Manitoba.
Over the past several years, Dr. Simons has assumed responsibility for conducting CHILD's clinical assessments, fostering relationships with the participating Manitoba families and contributing to Manitoba site staff management and operations.
Dr. Simons' research interests focus on development and prevention of food allergy in children, including a 2020 examination of the associations between prenatal diet and infant sensitization and allergy. Her CHILD publications also include a 2019 paper in the Journal of Allergy and Clinical Immunology: In Practice demonstrating that general-population and low-risk infants who did not consume peanut in their first 12 months of life were more than four times as likely to have a clinical peanut allergy by age three. This research was featured in CHILD's recent Success Stories magazine.
"I am delighted to take on this new role. I look forward to continuing to support the amazing CHILD Manitoba team and participating study families, and to working more closely with CHILD researchers across the country," says Dr. Simons.
Dr. Simons takes over the role from Dr. Allan Becker, who has held the post since CHILD's commencement and has recently retired, and Dr. Meghan Azad who joined Dr. Becker as the Manitoba Co-Lead in 2016.
---
Dr. Meghan Azad transitions from Co-Leader of CHILD's Manitoba site to a new position as the Study's Deputy Director.
As part of this leadership role, Dr. Azad will lead/co-lead funding applications and projects to support core CHILD activities and increase the Study's visibility; and contribute to operational and strategic planning.
She will also work with the Study Director and Co-Director to represent CHILD nationally and internationally among stakeholder groups.
Dr. Azad (PhD) is a research scientist at the Children's Hospital Research Institute of Manitoba (CHRIM), Co-Director of the Manitoba Interdisciplinary Lactation Centre (MILC), and an associate professor and Canada Research Chair in Developmental Origins of Chronic Disease at the University of Manitoba.
Dr. Azad is Chair of CHILD's Knowledge Mobilization Stakeholder Advisory Committee and leads CHILD's COVID-19 add-on study, which investigates the impacts of the COVID-19 pandemic on Canadian families.
Within CHILD, Dr. Azad has published many papers on the early-life determinants of child health, with a focus on the impact of maternal nutrition and breastfeeding on child health and development. A summary of her team's breastfeeding findings is featured in CHILD's Success Stories magazine.
"Working with the CHILD team has been truly foundational to my research career. I'm excited to continue this journey in my new role as Deputy Director," comments Dr. Azad.
---
"On behalf of CHILD's participating families, researchers, staff and students, we look forward to the ongoing contributions of Drs Simons and Azad that will enable the Study's continued success as a global resource for studies of child and maternal health."

Dr. Padmaja Subbarao
CHILD Cohort Study Director

Dr. Stuart Turvey
CHILD Cohort Study Co-Director