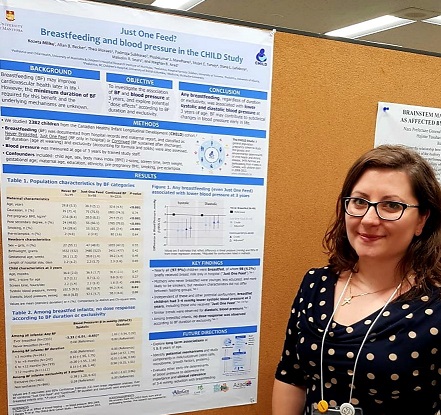 Dr. Kozeta Miliku, MD, PhD, has been offered two postdoctoral fellowships to support her CHILD-based research into the relationship between breastfeeding and lung health.
Dr. Miliku has accepted a one-year Breathing as One Research Fellowship from the Canadian Lung Association, valued at $45,000.
She was also offered a one-year 2018 Research Manitoba/Children's Hospital Research Institute of Manitoba Postdoctoral Fellowship Award, valued at $36,750.00, for which her project was ranked third out of 11 applications.
Dr. Miliku's project, to be conducted under the supervision of CHILD site co-leaders Drs Meghan Azad and Allan Becker at the University of Manitoba, is entitled "The role of human milk oligosaccharides in the developmental origins of lung function and asthma." The research will use CHILD Study data and be undertaken in collaboration with the lab of Dr. Lars Bode at the University of California San Diego—building on their previous joint work.
"Kozeta is breaking new ground with this exciting project that brings together two unique domains of the CHILD Study: human milk composition and lung health trajectories," comments Dr. Azad.
Dr. Miliku holds a Medical Doctorate from the Medical University of Tirana in Albania, and a PhD from Erasmus University in the Netherlands, where she also obtained her MSc and DSc in Clinical Epidemiology.
See Dr. Miliku interviewed about her research on Global News: