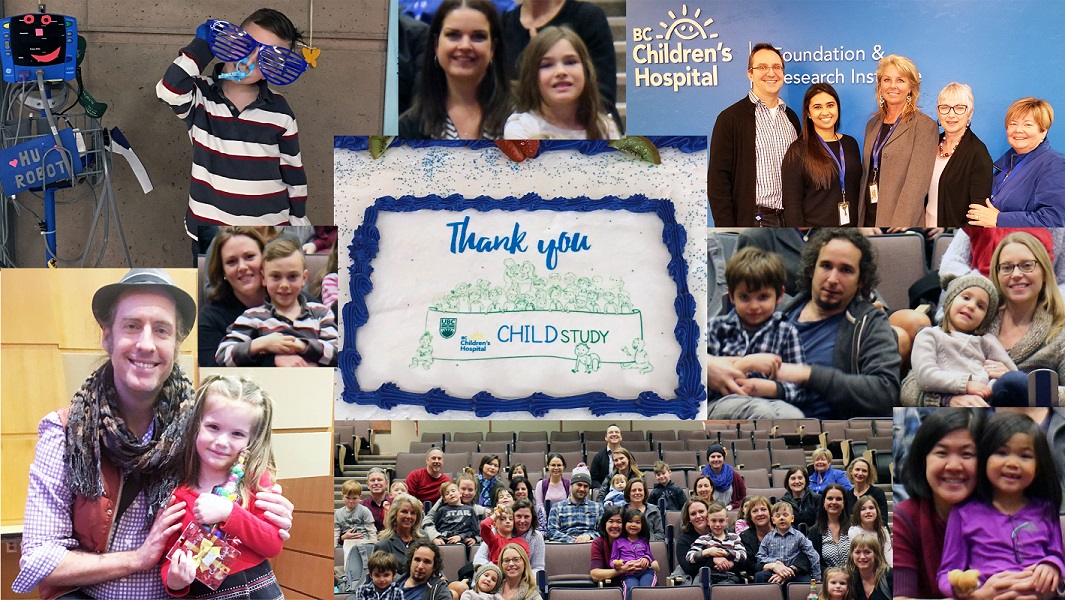 On February 15, 2018, the CHILD Study's Vancouver team hosted a celebratory Town Hall at BC Children's Hospital (BCCH) to mark the completion of the Study's clinical assessment of all participating children at five years of age, and to share some of the discoveries that have resulted so far from CHILD research.
About 50 members of families participating in CHILD attended, with many others remotely connected by webcast. Also present for the festivities was the CHILD "Hug Robot" (blood pressure machine), well known and loved by many of the children in the Study.
The proceedings included the presentation of an illustrated CHILD storybook to each child as a gesture of appreciation for their participation in the Study.
In the storybook, entitled "The Science Squad: Youth Helping Youth to Stay Healthy," young participants in the CHILD Study, recognized as "Jr. Scientists," help resolve an interplanetary health crisis—with a few close calls along the way, involving such matters as pee popsicles and the attempted theft of valuable poop samples. Vancouver site leader and Study Co-Director Dr. Stuart Turvey appears as Dr. Topsy Turvey.

Celebrants were also treated to a screening of the teaser for a documentary film currently under production, "Let Them Eat Dirt," which will highlight CHILD Study research. Based on the book of the same name, the film will explore the role of healthy bacteria in building children's immune systems. Study participant Oban McIntyre, who appears in the film, was among those present for the screening. (Oban is pictured in the collage above, in the upper left corner with the Hug Robot.)
The BCCH Foundation generously supported the celebration, donating gifts, and interviewed CHILD parents about their child's participation as part of a report on the event posted to their website: "Helping other kids lead healthier lives": CHILD Study families advance allergy and asthma research.
"We hope that when [our daughter] Tuesday grows up she's proud to know that she was part of this and that she is helping other kids lead healthier lives," CHILD Study parent Kristen Gagnon is quoted as saying in the BCCH report.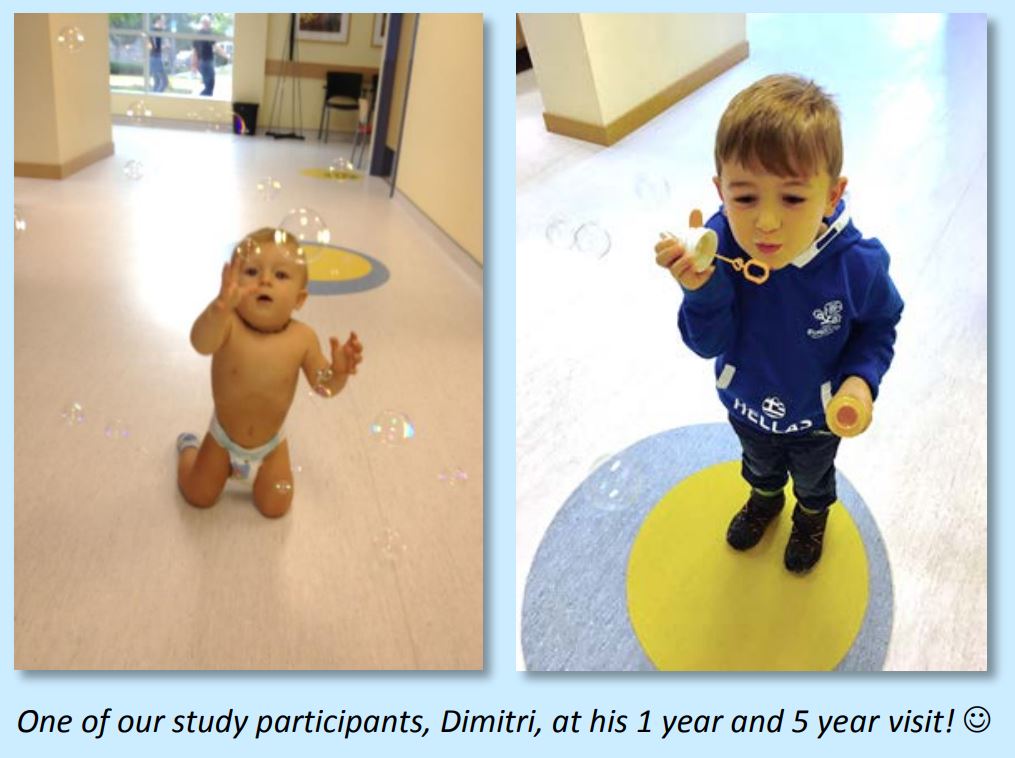 "The CHILD Study has reached a huge milestone," observed Dr. Turvey on the occasion of the event.
"We have completed the 5-year-old visits for our cohort of almost 3500 Canadian children. There are so many people to thank, but most important are our dedicated families: the real unsung heroes who inspire us and make our research possible."
In November 2017, the Manitoba site of CHILD staged a similar 5-year celebration. Teams at the other Study sites, in Edmonton and Toronto, are planning their own.
The fifth-year clinical visits were the originally planned end-point for the Study, but Study researchers have decided to extend the Study's mandate and now plan to continue following its child participants to age eight and beyond.