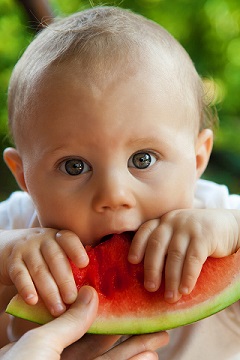 Dr. Sonia Anand, AllerGen Principal Investigator and Professor of Medicine at McMaster University, and a team of maternal/child health researchers from across Canada have recently received a $2 million grant to investigate the role of maternal and infant nutrition on the development of obesity, type 2 diabetes, cardio-metabolic disorders, allergies and asthma.
The project, titled Understanding the impact of maternal and infant nutrition on infant/child health in the first 5 years of life, was ranked second in the competition and awarded a five-year grant through a Programmatic Grant Program in Food and Health sponsored by the CIHR Institute of Nutrition, Metabolism and Diabetes.
The study will explore how maternal nutrition interacts with genetic factors of the mother and fetus and the potential impacts on an infant's risk of adverse health outcomes, including excess body fat, abnormal blood lipids and blood sugar, allergies and asthma.
Using data from four birth cohorts, including AllerGen's Canadian Healthy Infant Longitudinal Development (CHILD) Study, the project aims to improve infant health outcomes in diverse Canadian populations, including Caucasians, South Asians, and Aboriginal people.